About Matt Brown
1958: Born in Boston, Mass.
1981: Graduated magna cum laude, Harvard College.
1981-1995: worked as carpenter, cabinet-maker, and builder.
1990: Married Elizabeth Page.
1992: Birth of son Nathaniel.
1993: Began making color prints using Japanese methods.
1995: Became state-juried member of the League of NH Craftsmen.
1997: Birth of son Asher.
2018: Established Matt Brown Fine Art LLC, a business re-opening an existing art and craft gallery in Lyme, NH.
I graduated from college hoping to work with my hands. In 1987 I established my own business doing work with wood: post and beam barns, new house construction, renovations & additions, kitchen cabinetry & some furniture. Cabinet work led to the construction of the shop where I now make my woodblock prints.
My printmaking career owes much to my carpentry years. Learning to work with wood, to line things up and judge by eye, to draw up plans and implement them, this was my printmaking apprenticeship. My materials are now pigments, woodblocks and paper, my pursuit is with line, shape and color, but it still feels like the same process of visualizing something, analyzing it into parts, and then putting hand to tool and getting to work making something.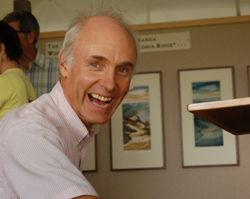 at the Sunapee Fair, August, 2013
About the Hanga Method
Hanga is woodblock printing using water as a medium. Oil goes well with metal machinery, such as a printing press. Water goes well with living things that depend on water, like wood, and our own bodies. Printing with water works best done by hand, using a baren. The traditions of using our human bodies in a disciplined way to do work and of using water as a medium (in both art and writing) may have much to do with why Japan hosts the strongest history of printing with water. The story of the ukiyo-e print is an example of perhaps the most formidable art production by a people in human history. The quality and quantity of the Japanese ukiyo-e print prodcution back in its heyday is astounding.
| | | |
| --- | --- | --- |
| | | |
| A print by Harunobu, the first artist to introduce the multiple color block technique | Print by Kuniyoshi, showing a carver at work | Print by Emil Orlik, of Czechoslavakia, showing a printer at work |
I have been working the craft of color woodblock print-making since January, 1993. Years spent working in the building trades after college (particularly cabinet-making) contributed a lot to the development of my printmaking. Self-taught in my printmaking, my pursuit in the first few years was mostly in isolation. Spending time with Japanese prints in my home, visiting Japanese prints at the homes of friends and neighbors, at museums, and through books, was largely how I learned in the early formative years. Finding Walter Phillips' book Technique of the Colour Woodcut in 1994 was particularly helpful. The development of the internet towards the end of the 1990's helped in opening to me other opportunities to expand my knowledge and contacts, both technical and aesthetic. The internet has fostered a wider adoption of this printing method in western countries such as the US. It is sweet to be part of a small, widely distributed, and dedicated group of hanga printmakers worldwide. I feel grateful in my relationsip with my work to the effort and discovery of numerous artists and craftsmen both living and dead, many Japanese but not all, who have done work with this medium.